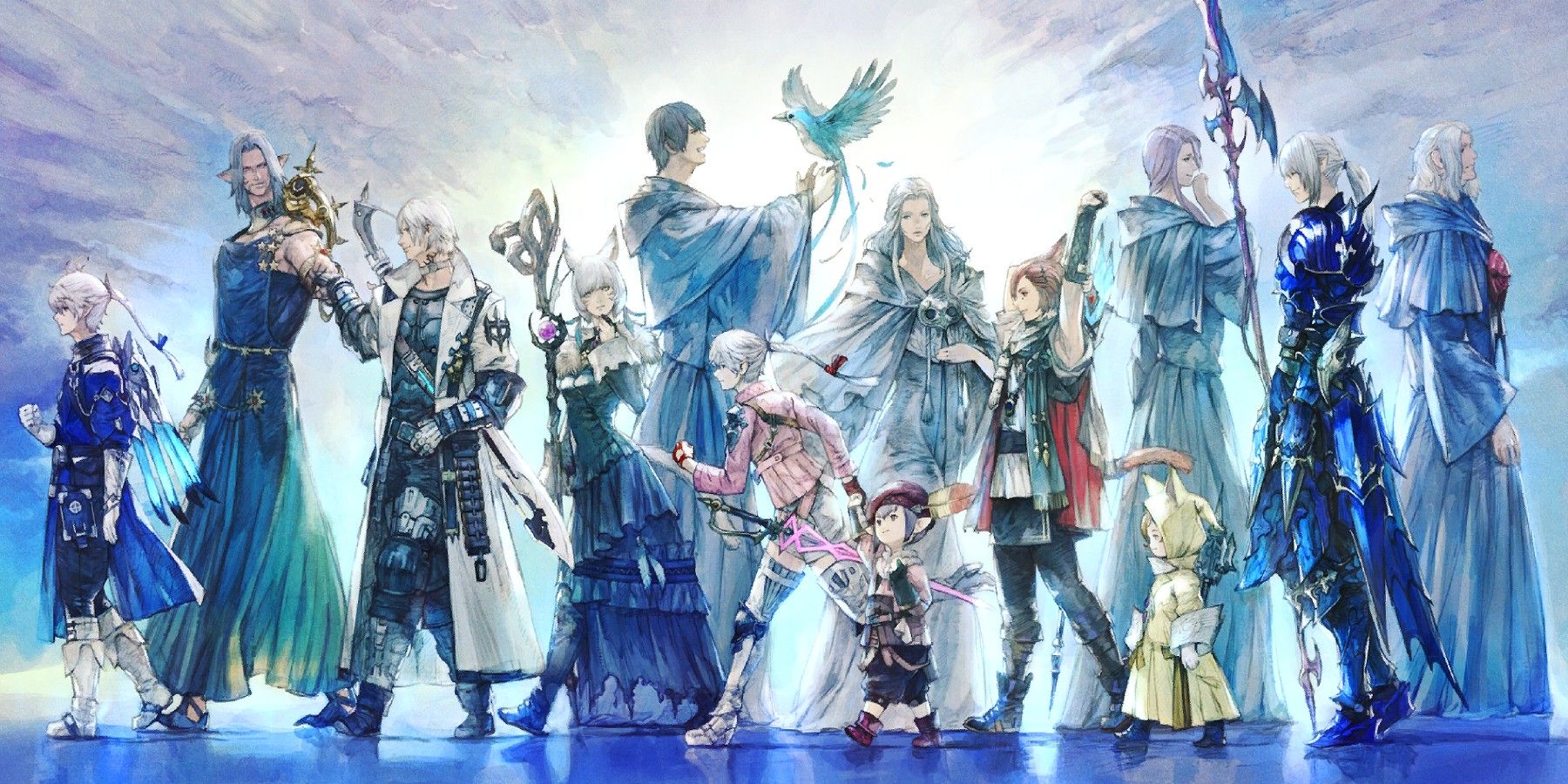 Final Fantasy 14 Letter from the Producer teases Endwalker patch content
Final Fantasy 14 launched its biggest expansion to date in Endwalker last year, doubling its player population and overstretching its server capacity so much that it had to suspend the free-trial service until February 23. Despite the fight against the ongoing pandemic, the Final Fantasy 14 the team delivered a follow-up worthy of Shadowbringersconcluding the Hydaelyn and Zodiark saga with critical acclaim.
After completing the main storyline quests in Endwalker, and beginning their journey in Asphodelos, players wondered where the game would go next. Emet-Selch's enigmatic clues to unexplored places and ideas in Final Fantasy 14 The story and the promise of starting a whole new adventure has captured the imagination of many fans. They were in the dark, however, more than ever before. The February 18 letter from the producer was the first glimpse of this great unknown and the answer to what Final Fantasy 14 the future will move forward.
RELATED: Final Fantasy 14 adds more deep dungeons
The future of group content in Final Fantasy 14
Following an expansion format similar to its predecessors, Endwalker will introduce the first wing of its Alliance raid in 6.1 – dubbed "Myths of the Realm" – with a storyline centered around uncovering the mysteries of the Twelve. Therefore, the next wing of Pandaemonium will open in 6.2, and its conclusion will come in 6.4. Perhaps the most interesting addition to the directory of functions in Final Fantasy 14however, is a new difficulty level for four-player content in the form of Criterion Dungeons.
Extreme Trials and Savage Raids present an opportunity for players to Final Fantasy 14 challenge yourself in difficult content designed around groups of 8 or Full Parties, but until now there was no equivalent for Light Parties. The addition of Criterion dungeons has been touted as a way to remedy this – to meet the growing demand for Final Fantasy 14 community for more challenging content at 4. Not much is known about Criterion Dungeons yet, but the first of these will arrive in 6.2 this summer, with two more planned for 6.4 and 6.5.
In an effort to appease Final Fantasy fans who may not be used to grouping up with others, and to better familiarize them with the MMO experience, the developers are also expanding the Trust system introduced in Shadowbringers to cover all the tasks of the main story scenario, this Herculean effort arriving over several patches. Basic rights from A kingdom is reborn will be covered in 6.1, with its patches and base toward the skyas good as toward the sky the fixes being covered in versions 6.2 and 6.3 respectively.
After the launch of 6.1, the Cape Westwind trial and the Lahabrea fight from Praetorium will become solo assignments, Praetorium and Castrum Meridianum becoming 4-man dungeons, and the Ultima weapon becoming an 8-man trial. This will mark the end of the infamous main storyline roulette and truly launch a new era of group content in Final Fantasy 14.
The future of questing, crafting, and housing in Final Fantasy 14
While the developers were tight-lipped about the main story of Endwalker patches, they teased the return of fan-favorite Hildibrand Manderville, who will be getting a new questline starting in 6.1 in April. In addition to Hildibrand, the Scions' ruthless accountant and accountant genius Tataru Taru will also receive their own questline to shine.
With the launch of 6.1, artisans will be able to make custom deliveries in Old Sharlayan by reporting to Alphinaud and Alisaie's mother, Amelliance. Arkasodara Beast Tribe dailies will also debut in April, and new crafting gear is also expected to arrive with the patch.
The highly anticipated Final Fantasy 14 The residential area of ​​Empyreum, located in the Holy See of Ishgard, will open with 6.1 – allowing players to bid to own their own chalet, house or mansion in the snow-capped mountains of Coerthas.
Perhaps in the same vein as housing, 6.2 will introduce Island Shrines, which are meant to be a player's private station against the troubles plaguing Etheirys, allowing them to grow crops and interact with their minions in an idyllic getaway. The feature will not be discontinued at launch and will instead receive substantial updates in versions 6.3, 6.4, and 6.5.
RELATED: Final Fantasy 14 fan recreates Old Sharlayan in Minecraft
Quality of life in Final Fantasy 14
The developers were quick to tease an extension to the game's Glamor system, which allows players to change the appearance of their equipped items to whatever appeals to them the most. In April, they can expect to see the number of glam plates increase (likely to 20), with more substantial changes planned for later patches of Endwalker.
Hrothgar women are still being worked on, and while the developers are aware of the possibility that they may not be the most popular race in Final Fantasy 14, they spared no expense to complete them properly and on time. Fans of Palace of the Dead and Heaven-on-High can rejoice, as 6.3 will also see the return of deep dungeons to Final Fantasy 14who took an unexpected break in Shadowbringers – offering Bozjan's southern front in its place.
Last, but definitely not least, the developers have teased a complete graphical overhaul for Final Fantasy 14 it should arrive with the next expansion pack in 7.0 – increasing the visual fidelity of the game and bringing it closer to modern RPG titles. Needless to say, there's plenty in store for fans of the game. For those who are still hesitant to give Final Fantasy 14 a trial, the return of the free trial will allow them to see if Eorzea is a land they could call home at their own pace.
Final Fantasy 14 is available now on PC, PS4 and PS5.
CONTINUED: Final Fantasy 14's Adventurer Squads are in desperate need of an update
Final Fantasy 14 fans create a lovely guide to PvP
Two groups of Final Fantasy 14 fans are teaming up to create a beautiful, easy-to-read infographic about Player vs. Player content.
Read more
About the Author