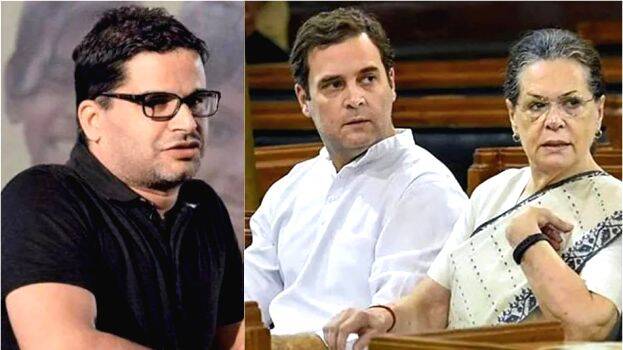 Gujarat elections not on agenda, Congress has another goal, Prashant Kishor urges leaders to do one thing – INDIA – GENERAL
The Congress leadership is considering enlisting the help of election strategist Prashant Kishor for the resurgence of the party which suffered a terrible defeat in recent legislative elections in five states. Sonia Gandhi, Rahul Gandhi and Priyanka Gandhi had already met with Prashant Kishor ahead of the elections in five states – Uttar Pradesh, Punjab, Uttarakhand, Goa and Manipur, but the talks were unsuccessful. But after the defeat, prominent Congress leaders took the initiative to talk to Prashant Kishor.
However, according to reports, Prashant Kishor is not interested in becoming the Congress election strategist in the assembly elections to be held in Gujarat, Karnataka and Himachal Pradesh before the 2024 Lok Sabha elections. He aspires to the role of a political leader capable of making decisions at the highest level. The Gandhi family sees no objection, but the leaders of the G23 do not agree. This is why earlier discussions with Prashant Kishore did not continue.
It is hoped that there will be no objections now to the resumption of talks with Prashant Kishor following the electoral defeat. Heads of state and activists are demanding to include Prashant Kishor in the party and ensure the success of the elections.
The Congress competes directly with the BJP in the states of Rajasthan, Madhya Pradesh, Chhattisgarh, Assam, Haryana, Jharkhand, Himachal Pradesh, Gujarat, Maharashtra and India. Uttarakhand. Prashant Kishor is of the opinion that if the party strengthens its work in these areas and wins the elections, it will be able to maintain the relevance of the Congress at the national level. The Congress competes directly with the BJP in 200 Lok Sabha constituencies.
Prashant Kishor's idea is to change the working format of the Congress. Congress needs election management, fundraising, training, social media policy, accountability, transparency, and alliance discussions. Kishor also points out that following the recent electoral defeat, this is the best opportunity to initiate big changes in the party. The Gandhi family hopes that Prashant Kishor can resolve the dispute with the G23 rebels. The Congress leadership in Gujarat is of the opinion that comprehensive plans are needed this time. The state leadership also believes that the arrival of Prashant Kishor will benefit the party. The final decision on this matter is left to Rahul Gandhi.