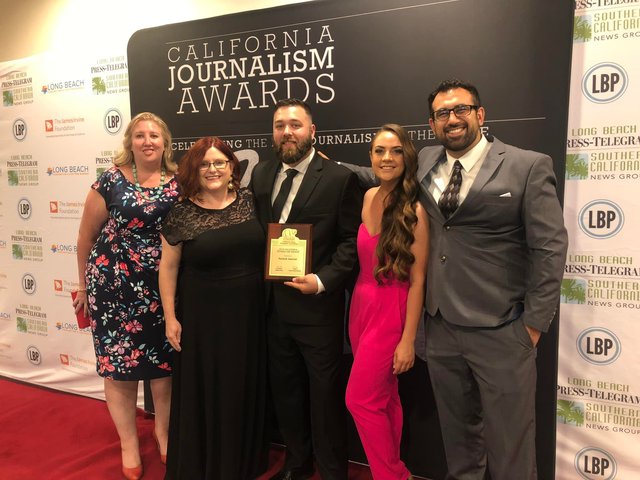 One Last Time – Turlock Journal
How do you say goodbye to something that has been a cornerstone of your life for the past six years? I'm not sure, but I'll try.
Wednesday was my last day working at the Turlock Journal after hundreds of articles written, countless interviews conducted and lasting friendships forged. When my editor Kristina Hacker first hired me in March 2016, I told her that working for the newspaper in the town where I was born and raised was a dream job – and I thought.
In elementary school, I remember my grandparents being so proud to buy an issue of the Turlock Journal where my picture appeared as the student of the month. They called me "Angela Martin" instead of Angelina, but we'll forget the past. It was still special, and it has nothing to do with the time I used "chicken" instead of "fault" in a title.
Years later, during my high school years, I browsed the sports section to get a glimpse of my name after my softball games. If I happened to be mentioned, that made my whole day.
Those moments from my youth helped me feel connected to my hometown newspaper, and that's why I enjoyed this job so much as an adult. Being able to provide that sense of value to members of the community who want to share a story, celebrate a moment, or draw attention to a cause has been more rewarding than I could have imagined.
There are so many moments of my time as a reporter for the Turlock Journal that I will never forget. I've covered historic rallies and protests from all sides of the political spectrum, highlighted openings at some of Turlock's best businesses, hosted congressional debates, and written about the inner workings of the city in which I've grown up.
The highlight of my time at the Journal was when we won first place at the California Journalism Awards for our in-depth coverage of the 2018 Congressional District 10 election between Josh Harder and Jeff Denham. I will never forget to read Judge's remarks that my months of reporting on both candidates helped inform voters in what was an incredibly important election. They said that was community journalism, and I couldn't agree more.
Helping to create 209 Magazine and hosting Studio209 has produced some amazing memories with my colleagues, like the time Kristina, Sabra and I walked around downtown Murphy dressed as witches, or the day we went rafting and cried with laughter when Candy fell in the water. Frankie and I filmed 139 episodes of Studio209 together, not to mention all the work we put into the 209 podcast and The Blitz.
Speaking of The Blitz, covering high school football over the years is something I will treasure for the rest of my life. Rain or shine, school athletes in our coverage area remind me every week to put heart into everything I do. Friday nights spent on the sidelines will be what I will miss the most. I have the utmost respect for the coaches and players of all the sports I have covered over the years; thank you for allowing me to enter your shelters and your grounds.
That being said, I love sports and became a journalist with the hopes of one day becoming a sports journalist. It's not very often you leave one dream job for another dream job, but on Monday I will start my first day in a new role as a digital content producer for NBC Sports Bay Area.
I couldn't be happier to start this new stage of my career, but I couldn't have moved forward if it wasn't for all the people who helped me get there today. From my colleagues to the members of the community who allowed me to share their stories, everyone touched me and helped me become a better journalist.
I hope the people of Turlock know how important local journalism is and don't take the paper for granted. The people I've met and worked with while I've been here are some of the most passionate people who really care about news and informing readers, and that's something some countries and even some cities in America aren't lucky enough to have. I still believe there is nothing more rewarding than telling people's stories, and I will continue to do so elsewhere while keeping a special place for community news in my heart.
It's not as drastic a farewell as I've made it out to be since I'll still be living in Turlock. Heck, you'll probably see me at the grocery store right after reading this. But that's the last time you'll see "By Angelina Martin" in the Turlock Journal, and it's enough to break anyone's heart, including mine.
C. Joybell C. said it well: We can't be afraid of change. You may feel very safe in whatever pond you are in, but if you never venture out of it, you will never know that there is such a thing as an ocean, a sea.
See you all in the ocean.