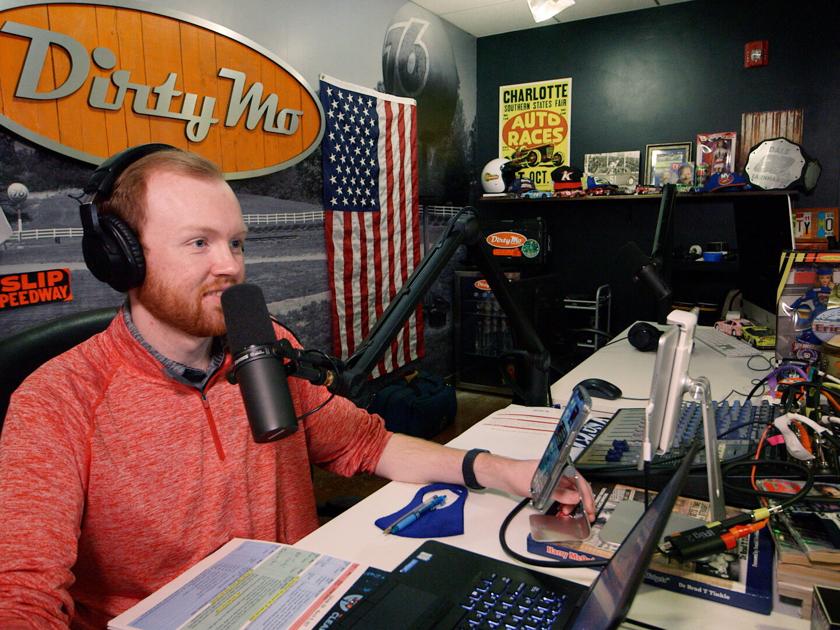 Spotlight on Alumni: Jason Schultz | Sports
When Jason Schultz first watched a NASCAR race at a young age, he got hooked.
He happened to watch a race with his dad on a random Sunday afternoon, and since then he hasn't missed a lot of races.
All these years later, former UNC Charlotte has already achieved her lifelong dream just two years out of college: working in the NASCAR media space. Schultz is currently a content producer / videographer for Dirty Mo Media, an original content company created by one of motorsport's most popular figures at Dale Earnhardt Jr.
"I started watching NASCAR in 2005," Schultz said of discovering his fandom for the sport. "I just remember my dad watching, and I just sat and watched. I don't remember having missed a race, technically, since.
A love for the media
Soon after he started watching sports, Schultz began to like the media side. As the first Twitter user, he was able to see members of the media covering the sport across the country. Even though he was not yet a teenager, Schultz already had a good idea of ​​the career path he wanted to pursue.
"Not many 11-12 year olds think about what career path you're going to take, but I thought it would be great to go out on the track and be interested in NASCAR but do it for a career," said Schultz. "It was always the idea. If I could combine these two things it would be the ultimate dream.
Instead of waiting to grow up and graduate to work in sports, Schultz took matters into his own hands. He created his first racing website titled "Turn4RacingNew.com" before the start of the 2012 NASCAR season. On the site, Schultz wrote previews, recaps and reviews about the sport. The blog ended up reaching 100,000 views and gave him more opportunities in the world of journalism.
"I started writing articles just for fun, but also because I liked participating in the sports conversation via social media," said Schultz.
Find his place
After covering the sport from the journalist's point of view, Schultz began to venture into other fields. In high school, a new goal emerged: to work in the public relations sector of NASCAR.
Through his previous work online over the years, Schultz has built a credible network of connections. One of his most important ways to connect with people at the sport was by working with the annual Drive for Autism Celebrity Golf Tournament, where he provided social updates for the tournament.
Before heading to Queen City for college, Schultz covered a race at Dover International Speedway in 2016, while Drive For Autism sponsored the race.
There he was able to connect with Mike Davis, the general manager of the Dale. Jr and co-founder of Dirty Mo Media with Dale Jr .. Upon meeting in a Media Center, Schultz made Davis aware of his interest in potentially working with Dirty Mo Media.
"The most important thing was to come to Charlotte and network," Schultz said. "Show my willingness to work. "
During her second semester in Charlotte, Schultz completed an internship at Charlotte Motor Speedway, working with the communications team. During the same semester, he began freelance work with Dirty Mo Radio, working on the "JR Motorsports Up Front" and "Fast Lane Family" podcasts.
After completing two internships, Schultz continued to rise through the ranks with Dirty Mo Media. After graduating in December 2019, he joined the company as a full-time producer and videographer.
🚨 BIG NEWS 🚨

Glad to announce that I am joining @DirtyMoMedia full time as a content producer & videographer!

I have always dreamed of working in #NASCAR Since I was a child. Amazing to achieve this goal!

I can't thank enough @ MikeDavis88 for this opportunity. Ready to get to work! pic.twitter.com/d0QfbbH3YU

– Jason Schultz (@HeyJasonSchultz) December 17, 2019
Schultz's duties with Dirty Mo include producing one of the company's most established podcasts, "Clear door bumper, A weekly podcast hosted by Casey Boat and NASCAR watchers TJ Majors, Freddie Kraft and Brett Griffin. He has also produced episodes of "The Dale Jr. Download", a podcast hosted by Dale Jr. and Mike Davis that welcomes a new guest from the world of motorsport every week.
Even though he's only two years away from graduating, Schultz has fulfilled many dreams he has been chasing since falling in love with NASCAR.
"I think it was a blueprint that was influenced by working, networking, building skills and gaining experiences," said Schultz. "I was able to introduce Mike Davis and Dirty Mo that I was just finishing college and would like to start working full time. It was never a guarantee that this would happen. It was always the dream, but it became a master plan, and it worked. "
Although Schultz never made a plan, he knew he wanted to stand out and do something different in the media space for the sport he loves. And with Dirty Mo Media, he found his place to do it.
"I have always had the creative spirit of 'being different … being unique.' That's why I love what Dirty Mo Media is doing. It's different content. It's not the same old boring NASCAR talk. It's dynamic, compelling, unique and interesting, "said Schultz. "It means a lot to look back and see that all the hard work pays off," Schultz said.