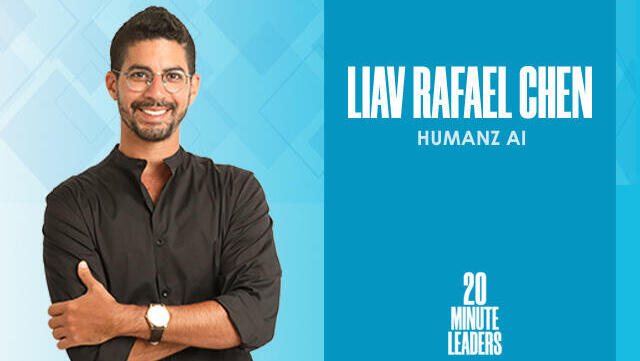 "The number one rule for influencer marketing is trust"
Although moving from the intelligence unit to developing technologies for influencer marketing may seem like a big change, Liav Refael Chen says the feeling of building a great company is priceless. CEO and co-founder of Humanz AI, Chen advises people who are just starting their entrepreneurial journey to be willing to share their ideas with those around them. It might take a little daring if you think someone might laugh at the idea or steal it, but he explains that getting feedback is the way to get signs that point you in the right direction. It was by sharing his insights on technology to find the target audiences for effective influencer marketing that he engaged his co-founders. Chen explains that trust is the most important factor in influencer marketing. Although he started to focus on the tech side, he shares that he became more of a people person running Humanz and meeting clients.
You were in 8200, then moved on to building a SaaS platform to enable influencer marketing. How did you come to what you do today?
I am from Eilat. I studied computer science when I was a child. I learned to code and basically got my experience when I was a teenager. Then I came to unit 8200, which is the intelligence unit. I served there as a software developer and then went to officer school. Then I was the commander in chief of one of the training courses in the Bahad. After that, I was a software team leader where I met my co-founders. We all served together.
One day, at lunchtime at the Glilot base, we spoke to a friend of ours who was a party organizer on the side. He told us that he pays a lot of money to beautiful girls on Instagram who have a lot of followers and they bring in the audience. I asked him, "But does it work? How do you know how much to pay? How can you track this? He was a very smart guy, but he didn't really have any answers.
So I remember that was my aha moment, and I found out there was a landscape called "influencer marketing." I found out it had issues, but also many other brands around the world have issues. As five software developers from the military, we knew how to handle big data. So we created algorithms for social media behavior analysis. Then we had the ability to understand users, segment them into demographics, interests.
With this technology, we have fundamentally changed the influencer landscape. We enabled brands to find the most relevant collaborations for them. Four years later, we have over 300 advertisers. Like Unilever, ZARA, Kimberly-Clark. There are around 65 employees in the company. We have headquarters in Tel-Aviv.
What's going on with influencer marketing? What is happening from a technological point of view which is the innovation here?
The number one rule of influencer marketing is trust. You need to trust the influencer you follow. It's not a banner, but it's you who want to get the content because you trust the person. Now organically the ad is on an Instagram page, a Twitter page, a YouTube page, a Twitch page. This is the creator's page.
The first thing that constitutes innovation in what we do is measurement capabilities. We can measure the actual exposure. We can measure the actual pull. We can provide you with a lot of data using our techniques. We can say, "This creator brought 100 visitors to your website which generated $50,000 in revenue." It's something no one else can say.
We created the ecosystem. So one way is to have creators onboard your platform and then we analyze their social behavior and social influence using a bunch of machine learning algorithms. Next, we understand more information about each user. Finally, we understand if it is a real or a fake user. There are over 20% fake users on Instagram. You can buy likes. You can buy fake followers. What we do is we basically solve this problem by using the measurement and analysis technology that we have developed.
I think the whole market is going for a more measurable approach. Designers now have their own brands. Humanz is here to make sure to make the whole process smooth between different platforms, between different creators.
You are at the service of influencers and advertisers. Then, at the end, you also serve the people who organically get that exposure. What is the most difficult part?
You are right; you have a triangle. On one side you have the creator; on the other, you have the mark; and at the top you have the consumer. From my point of view, the most important element is obviously the consumer. What connects everyone is trust.
You start the process by having a product. Next, you want to find out who can send the product messages in the most efficient way. It is therefore necessary to find the public, the consumers who are interested in this product and then who can influence them. The most important and difficult part is understanding online audiences, then finding the influential accounts, and at my recommendation, the micro and nano accounts that are best suited to influence those target audiences.
You also do targeted analysis: take this specific creator, they may only have 15,000 followers, but these are exactly the followers you want, as an advertiser. Law?
Exactly. The core technology of Humanz is to identify audiences. In addition, we have developed a SaaS platform that allows you to insert a brief and find influencers to then approach, manage and remunerate them. The entire workflow is on the platform. We believe the biggest challenge is identifying the target audience.
Paint me a picture two, three years later. Where are we going with influencer marketing or advertising space?
I see the advertising paradigm changing completely. This means that you see more and more brands that rely on creators, that are more creator-oriented. You can see creators doing marketing strategies. I see the future is right up to the creators when it comes to managing the entire marketing division of brands and having their own white label brands.
Based on the numbers, these are facts, brands continue to increase influencer budgets. If three years ago it was 5% of your online marketing budget, you can see now that the average is around 20% of your online advertising budget. And as you have micro and nano creators joining the community and creating more powerful content, you'll see more budgets.
Are you more of a marketer? Technologist? Contractor? Chief?
I started as a technician. Along with the rest of the founders, I developed the platform. But after a year, I stopped developing. I started making a few calls. I met the customers. I understood the customers. I can say now that I am more of a people person than an IT person. But somewhere in between.
You start from something that is deeply rooted in national security and then move more into branding and marketing. Technologists may think that's not the most important thing. How do you reflect on your journey and give it meaning?
I think it's all about satisfaction and how you feel when you get up in the morning. I have smiled for almost five years when I get up in the morning. The reason is that I'm doing something I love to do and I'm building something.
Together with my co-founders and the rest of the Humanz company, we are building something big. Every year we make three times the income. You can't put a price on that feeling. That's what makes sense to me.
What can you share with young entrepreneurs looking for what they want to do to gain the confidence to pursue something that others might find completely ridiculous?
I would say that you need to focus on the signs that you receive from your environment. To have signs, you have to share. You have to dare. I know a lot of entrepreneurs who say, "I have an idea, but I won't tell you because you might take it. Every aha moment I have, I share with my friends. This is how I got my co-founders to work with me. That's how I got the environmental sign. Share and dare. That's the best advice I can give.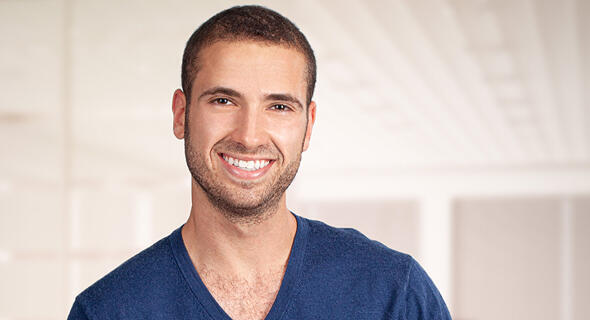 Michael Matias, Forbes 30 Under 30, is the author of Age is Only an Int: Lessons I Learned as a Young Entrepreneur. He studies artificial intelligence at Stanford University, is a venture capital partner at J-Ventures and was an engineer at Hippo Insurance. Matias was previously an officer in Unit 8200. 20MinuteLeaders is a series of tech entrepreneurship interviews featuring one-on-one interviews with fascinating founders, innovators and thought leaders sharing their journeys and experiences.
Contributing Editors: Michael Matias, Megan Ryan